Wondering How you can Change DHCP Lease Time?
In this article, I'll show you the best methods for changing DHCP lease time. Before I go any further, though, I must explain the concept of DHCP lease time. For example, many people have never heard of this term.
What Is DHCP Lease Time?
IP addresses are something you've probably heard of. The internet service provider issues an IP address to your machine on a temporary basis. Your PC can choose whether or not to renew its IP address from the DHCP server after the time period has expired. The default DHCP lease time is 1440 minutes or 24 hours, and this is the period that is referred to as the DHCP lease time.
How to Change DHCP Lease Time in Windows 10 is what you're looking for now.
To get the answer, keep reading…
How to Check the DHCP Lease Time Windows 10?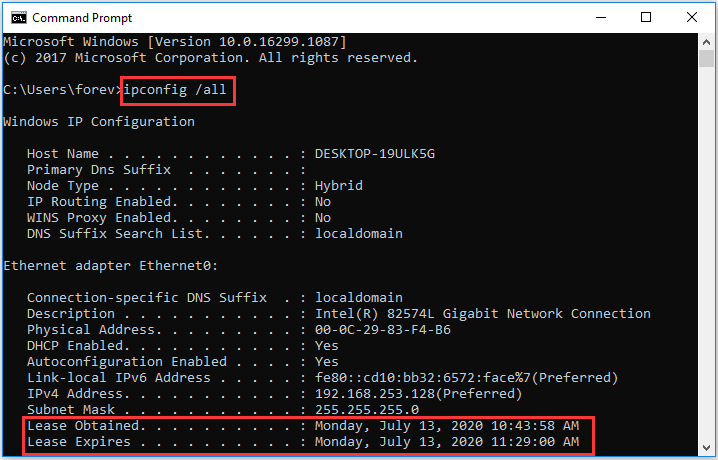 If you want to check the DHCP lease time in Windows 10, simply follow the steps below:
First, you need to open Command Prompt.
Now, write the command ipconfig /all in the command line window and press enter to continue.
Here you can check the  Lease Obtained and Lease Expired.
Isn't it simple to see how long a DHCP lease is?
As a result, you'll learn about the two most effective methods for altering the DHCP server's lease time.
How to change DHCP lease time Windows 10 via router?
Follow the steps below to change DHCP server lease time via router:
Go to the browser on your computer and enter the address of your router. Generally, the address would be 192.168.0.1 or 192.168.1.1. 
Now, enter your User Id and Password.
Go to the router settings > configuration page> find LAN.
Do you see the DHCP server module?There you will find the DHCP leased time that is set for 24 hours by default.
Change the DHCP lease time according to your choice and click save.
Once you are done with the above steps, reboot your computer.
How to Change DHCP Lease Time via DHCP Server?
To alter DHCP lease time in Windows 10, you'll need the help of a Windows 10 server. However, this method requires the use of a specialised DHCP server, which can assign IP addresses and other network default values on demand.
Follow the steps below to change DHCP server lease time:
Open Run dialogue and type dhcpmgmt.msc.
Click OK and continue to open the DHCP scope properties.
Click on the general tab under the lease duration. This will open the DHCP clients section.
In the limited field, fill anew lease time.
Click OK to proceed and reboot your computer. Finally, check the DHCP server lease time changed or not.
Conclusion
The two most effective methods for permanently altering the DHCP lease time are described in this article. I've shown you how to adjust the DHCP lease time in Windows 10 using a router and DHCP server. Any other suggestions? Please leave them in the comment section. Thousands of people will benefit from your methods.
Stay tuned for more technical tips and tricks!