Alina Fazleeva, a social media celebrity who posed nude beneath a holy tree, has been deported and barred from Bali as a result of the offensive photograph.
The prominent Russian Instagram celebrity who posed nude in Bali has been deported and is prohibited from returning to the renowned tourist destination.
Alina Fazleeva, also known as Alina Yoga, is a yoga influencer who posted photos of herself rubbing her breasts against a 700-year-old Banyan tree in Indonesia on her famous social media account.
As a consequence of the photos and subsequent publication, Ms. Fazleeva and her husband, Andrey Fazleeva, have been deported from the island and prohibited from returning for six months.
Locals revere the tree, which is situated near Babakan Temple in Tabanan on the Indonesian paradise island of Bali.
The naked photograph was first brought to the notice of Balinese businessman Niluh Djelantik, who requested intervention from the local authorities.
Following public outcry over the picture, the influencer erased the photographs and uploaded an apologetic video, which showed her praying while fully clothed at the foot of the holy tree while expressing her "regret."
She said, "I apologize to every Balinese and Indonesian for my acts, which I deeply regret." "I'm very ashamed, I didn't want to disrespect you in any way; I have no knowledge of this location whatsoever.
"After praying beneath a tree, I went directly to the police station to explain and apologize for this happened."
Alina Fazleeva Offends Bali Residents by Posing Naked on Holy Tree
A Russian influencer called Alina Fazleeva and her husband Andrey Fazleev held a news conference in Denpasar, on the Indonesian resort island of Bali, on May 6, 2022.
According to NDTV, the pair faces expulsion from Bali after arranging a nude photo shoot on a holy tree in contravention of local tradition.
Mail Online claims that in 2019, Alina Fazleeva did nude postures on a centuries-old tree inside the Babakan temple grounds in the Tabanan district.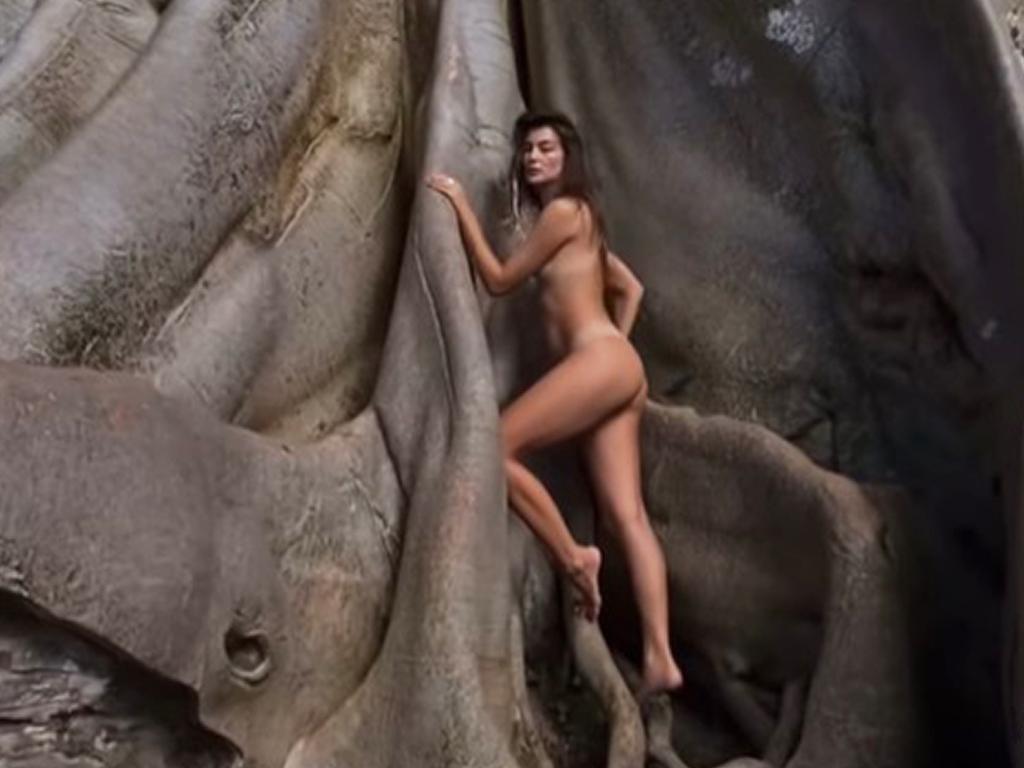 The photograph, shot by her husband, was shared on Instagram and went viral, angering Balinese communities since mountains, trees, and other natural elements are revered in Balinese Hindu culture as the dwellings of the gods.
The immigration commissioner of Bali, Jamaruli Manihuruk, told reporters, "It has been shown that both of them engaged in actions that jeopardize public order and violate local standards."
The chief said, "They will be deported as punishment."
According to NDTV, the husband and wife have been barred from entering Indonesia for at least six months and were required to engage in a purification ritual at the holy site in line with local customs.
Read More: Fake Photo: Will Ariana Grande Be Pregnant in 2022?
Ig Model Expresses Regret for "Big Mistake"
@alina yogi now has a private account with more than 18 thousand followers and over 900 posts.
According to NDTV, Alina Fazleeva issued an apology on her Instagram profile by writing a message in English and Bahasa Indonesia recognizing that she "made a major error."
As in my case, there are several holy sites in Bali, but not all of them have informational signage," concluded Fazleeva. The social media model then stated that "treating these sites and customs with respect is crucial."
According to Mail Online, Fazleeva also visited the same tree while clothed "to plead for forgiveness."
Alina Fazleeva is also said to have apologized to Niluh Djelantik, the local resident who reported her to the police. While her apologies were accepted, the local reportedly emphasized that the issue should continue to be investigated.
Read More: KSI Broke Up With His Girlfriend | Does He Dating Anyone in 2022?
Expanding on the Russian Tourist's Husband
Andrey Fazleev, the spouse of the influencer, has over 2,000 Instagram followers and is categorized as an entrepreneur who posts material promoting his wife.
The Russian version of @andrew fazleev's profile indicates that he has "organized more than 100 events and excursions" as the creator of Art Planet and Art Friday.
Andrey Fazleev's Facebook profile indicates he is a member of the musical groups AtmanLove and Turkish Sound.